The Automated Handover Process Manager for JCL & IBM Workload Scheduler
ProcMan is an automated handover system for z/OS and distributed data centers.
New or modified batch objects need to be transferred to Production systems on a regular basis. These objects include JCL, procedures, parmlib (or control card members) and scheduling objects (e.g. IWS), etc.
Each organization has its own rules and standards for these "handover" objects, and statutory provisions may require complete traceability and auditing as these objects are migrated to Production.
During the migration, objects may be modified further, verified, and adapted for the requirements of each target system, making it difficult for all involved to know exactly what's going on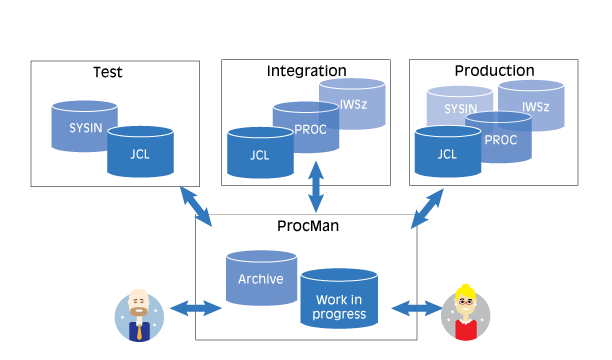 The technical environments involved can be extremely diverse, and can range from simple "Test to Production" systems on a single CPU to higly-complex environments with separate infrastructures.
Modular, Secure System
ProcMan provides full change control for scheduling.
How Does ProcMan Work?
With ProcMan, you can request, create, modify, and delete the following objects:
JCL (Jobs and Procedures)
Parmlib members (SYSIN)
Scheduler definitions (IWS database)
"Ad-hoc" request to IWS Current Plan
File definitions (PS, VSAM, GDG)
Custom forms for handover of "other" systems, (e.g. CA-7, Automic, Control-M, DB2, etc.).

The ProcMan design is highly adaptable to any z/OS environment:
JCL syntax checker is built-in
A web-based portal to all functions
Flexible and adaptable scripting
Open data model using IBM DB2 for z/OS